Presenting the "twelve signs that we are on the road to victory" for the taping of his TV show,
Gospel of Life
, Fr. Frank Pavone gave the Catholic Pro-Life Committee and our community an experience like no other.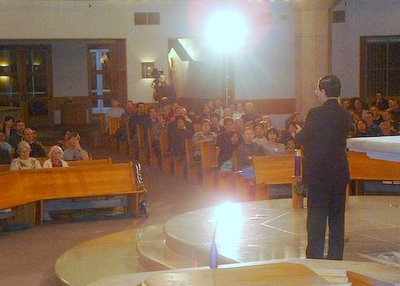 Imagine the rare experience of being in your church, but not for Mass. You are present at the shooting of Fr. Frank Pavone's Sky Angel Network show. With each word that Father says, you are internalizing the power of knowing that we are fighting the victorious fight. You have just experienced motivation unparalleled by any political speech that could ever be given.
On December 2, 2006 at St. Rita Parish in Dallas, TX, with absolutely no notes to refer to, Fr. Pavone thoroughly breezed through his 12 reasons why the Pro-Life side is winning. These are just a taste:


A high percentage of young people are getting involved in the Pro-Life movement. (...and they realize that it could have been them!)

More and more women who have abortions are standing up and saying, "I regret my abortion!" (And the more abortions there are, the more women are standing up against what they have done.)

Researchers are coming up with more and more evidence that abortion as a supposed "benefit" to women does more harm than good.

Fewer and fewer doctors will perform abortions. (Ask the pro-choice doctors if they themselves will perform the abortion!)

In which directions are the conversions going? There is a society of former abortionists used to use their skills to kill babies and now are seeking healing while some speak up against what they used to do. Where is the society of former Pro-Lifers who are now abortionists?

Jesus already won the battle over the kingdom of death!

The pro-life movement is succeeding. And I am stressing "ing" because it is a process. We are moving towards victory.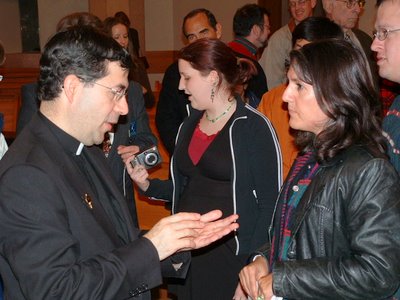 To hear Father's talk in it's entirety and experience the motivational power of hearing the truth of the state of the Pro-Life movement, stay tuned to the Sky Angel Network and watch Fr. Pavone's
Gospel of Life
.