While there are always great events to look forward to at the Catholic Pro-Life Committee, the next few months bring those you don't want to miss.
The Holy Christ Child Luncheon and Market is THIS SATURDAY, November 18, and it is proving to be quite an event! With over 310 people already registered, a grand event for the Cause of Life can certainly be expected. This event benefits the ministries of the Catholic Pro-Life Committee and the White Rose Women's Center.
On the evening of Saturday, December 2, Fr. Frank Pavone, Moderator General of the Apostolic Society of the Missionaries of the Gospel of Life (MEV) and National Director of Priests for Life, will be in Dallas to record a program for his TV series "Gospel of Life"! Everyone is invited to be a part of his audience, so gather your friends and family at 7:30 p.m. at St. Rita Catholic Church in Dallas.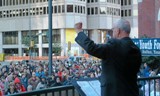 Are you ready for the annual Roe v Wade memorial? This year, we expect several thousand people to attend the Rally & March for Life alone! At 9:00 a.m., the Roe Memorial Rosary will be prayed at Fairmount – Dallas' and Texas' oldest abortion center – 2921 Fairmount at Cedar Springs, before the Mass. Buses will run starting at 8:30 a.m. from the Cathedral to Fairmount, and seats will be reserved in the Cathedral for those attending the Rosary. There is free parking in the Cathedral garage. Prior to the Rally & March, Mass will be concelebrated by Bishop Charles Grahmann and Bishop Kevin Vann and diocesan clergy at 10:00 a.m. at the Cathedral Shrine of the Virgin of Guadalupe, 2215 Ross Ave. at Pearl St., Dallas. The Rally & March will start at 12:00 noon. Will you be a witness?
March 24 marks the 14th annual Bishop's Catholic Pro-Life Dinner. The dinner is one of the largest of its kind in the nation, and the funds raised at this lively and motivating event are critical for continuing our life-saving work in the diocese. All proceeds will fund the Catholic Pro-Life Committee and its nine ministries touching thousands of lives in our diocese. Stay Tuned to our our
website
for more information.
For more information on these and other Pro-Life events in the Dallas area, visit our website at
www.prolifedallas.org
.